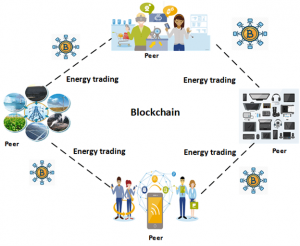 Use Cases of Blockchain in the Energy Sector
Peer-to-Peer Energy Transaction 
Blockchain in the P2P energy trading space is probably one of the most influential and disruptive use-cases. It brings multiple facets together like community resilience, finance, and renewable energy development.
By operating in a close-knit community or geographic group, renewable energy resource owners can transact surplus electricity to neighbors and other stakeholders in the community.
Here are a few examples of Blockchain-based P2P energy trading podiums:
The Brooklyn Microgrid: The Brooklyn Microgrid is a Blockchain-based project by LO3 Energy, which allows users to transact electricity with their peers, as a means of avoiding large energy service firms. On this platform, sellers and buyers can bargain the cost of electricity – eradicating intermediaries.
ME SOLShare: ME SOLShare, is a blockchain startup that introduces nearby residences to solar panels within a community micro-grid. It provides a bi-directional DC electricity meter known as SOLBox, which gives individuals access to a community selling platform.
A smart contract collects the total generated electricity from smart meters that are linked to solar panels through digital wallets and banks that sanction the loans.
Financing Energy Access 
In parts of Africa, many communities are disconnected from their national energy grids. Most of these communities rely on solar panel schemes that usually continue to be unfunded. Blockchain-powered crowd-financing could help bridge this funding gap. These communities are now able to remotely purchase photovoltaic cells utilized in the solar panels. The solar panels are triggered when enough solar cells are pre-brought. After the deployment of the solar grid, families can pay for their usage with cryptocurrencies.
The Sun Exchange is a Blockchain based solar energy finance platform that functions on this very model. It allows people to buy solar panels and then earn an ROI from them through the platform. Sponsors purchase solar cells and rent them to factories, schools, businesses, hospitals, and users in developing nations.
Energy Cryptocurrencies 
Renewable energy cryptocurrencies motivate solar prosumers by rewarding them – Similar to how bitcoin rewards miners crypto incentives for every mined block. Here are examples of how cryptocurrencies promote renewable energy:
SolarCoins  – MIT startup, SolarCoin, pays people with digital currency for creating solar energy. It currently pays 1 SolarCoin for 1 megawatt-hour of solar energy.
Coinfy – A blockchain-based trading and payment processing platform that promotes transactions without national and geographic boundaries.
Since blockchain payments require minimum transaction fees, energy transactions between users needing energy sources and off-the-grid solar firms have become an opportunity in developing nations.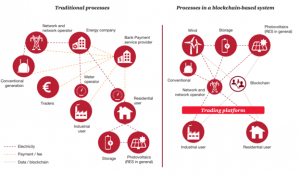 Pre-Payment for Energy Sources
ImpactPPA is an encouraging blockchain-based platform that attempts to redefine the worldwide energy market by letting energy buyers "Pre-Pay" for power using their mobile devices. Electricity recorded on a smart meter is linked to the Blockchain network. Mobile devices communicate and trigger the smart meter to buy energy.
ImpactPPA leverages the technology to give a payment trail for utility companies, governments, developers, service providers, investors, and other stakeholders who are on this transparent platform.
Blockchain Helps Organizations Boost ROI!
Blockchain assists oil and gas corporations enhance Energy Trading & Risk Management, it also provides a secure, transparent platform for track and trace which was previously not possible.
Blockchain a Boon to the Renewable Energy Industry!
Blockchain in the Energy industry (Oil and Gas, Electricity, and Green Energy), is still in the discovery stage. We predict significant developments the coming years in this sector as organizations are working towards perfecting the way renewable energy is tracked from the source. It has the potential to transform the way companies collaborate to accelerate the development of low-carbon energy.
Utilities need to innovate and transform their businesses to handle the unexpected disruption across this sector. Emerging technologies will play a crucial role and enterprises will need to embrace the innovation to seize the opportunities presented by the new wave in the energy world.
KrypC can help you embrace the innovation you need to reinvent and introduce new services for the new energy world! Contact us today to see how we can help you redefine the energy landscape!