Blockchain as an innovation has the power to revolutionize and disrupt business standards in nearly every domain. According to the latest reports by a trusted market research organization, Blockchain in the telecom business is anticipated to expand from USD 46.6M in 2018 to USD 993.8M by 2023! So, what is all the buzz really about?
Blockchain is a distributed ledger replicated across the participants available in a network that manages the records of all transactions occurring between two or more individuals. It is impossible to tamper with the transaction validated by other participants. Yes, you read that right. These records cannot be corrupted or modified. In short, Blockchain Technology provides both control and transparency across any ecosystem.
While Fintech was undoubtedly one of the initial domains that embraced the technology, it has varied potential around every industry and even more so in the telecom and media Industry. Key Blockchain Traits are comprised of provenance, finality, consensus, and immutability around the shift of items within business networks; therefore, reducing time, risks, costs, and guaranteeing data quality, and enhancing trust.
Trends in the Telecom and Media Industry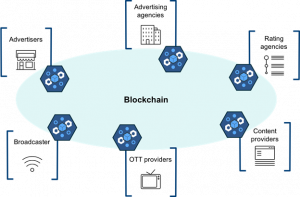 It's no wonder the Telecom and Media domain is encountering a crucial transition stage distinguished by disruptive innovations. The telecommunication business in advanced nations is saturated, and development is decreasing.
Modern professionals have penetrated the marketplace with disruptive offerings, clashing straight with the authorities. Telecom and media organizations responded with a boost in alliance and acquisition activity, building larger conglomerates.
Users have observed the influence as well. The latest technologies and enhanced competition have empowered them. Now, they can shift between suppliers and go for a new transformative offering effortlessly. Administrators should invest in modern technology (for example, 5G and high-speed internet) to give the demanded service.
Current Challenges Encountered by the Telecom and Media Companies 
The telecommunication domain is currently experiencing a difficult phase. On one side, revenue expansion is slowing down due to enhanced competition and market saturation. Organizations are striving to find solutions through augmentation via acquisition and development to new ventures, including AI, IoT, cloud computing, and more. On the other side, expenses need to manage sufficient lucrativeness. This implies that the TME industry needs to polish their business functions to make them feasible, including guaranteeing a positive user experience.
Maintaining a client is considerably less valuable than acquiring a new one. Needed expenditures in the latest innovations add to the wave of costs. To overcome their network costs, organizations are searching for smart means like Blockchain!
7 Key Benefits of Blockchain in the TME industry
Implementing Blockchain solutions to any company network gives three advantages: decreased expenses, diminished uncertainty, and improved trust.
However, in the Telecom and Media industry, there are more advantages:
Streamline Internal Processes: It consists of utilizing Blockchain solutions for communicating with suppliers and internal efficiencies. The technology allows organizations to optimize their functions to advance payment and settlement methods, track their network supply chain, and trade marketing.
Cost-Effective Solutions: A Blockchain's 'enabled' reliance enhances coordination between multiple associates because of a shared aspect of liabilities and transactions. This allows the expulsion of intermediaries, following in cost savings.
Easy Accessibility of Data: Blockchain promotes one view of information rather than the requirement for consolidation all over the different systems. Additionally, it aids for trustworthy audit trails because of the records of all transactions being present in the ledger.
Better Fraud Detection: Deployment of smart contracts in roaming, as well as other cases, permits for near-instantaneous charging; hence, resulting in fraud detection and increased revenue assurance.
Scope for IoT Ecosystem: A Blockchain can serve as the ledger, which allows for an M2M economy to thrive based on a shared platform where all the transactions get recorded. As a result, it can work as the facilitator for an Internet of Things ecosystem.
Collaborate in Business Networks: By helping each ecosystem member remain trusted and peer associated, Blockchain sets TME organizations at the core of different ecosystems like digital marketing and content distribution, creating new business standards and value creation across partners and organizations.
Facilitate New Businesses: Blockchain has the potential to expedite new business forms for higher revenue creation for CSP (Communication Service Provider) that are searching for fresh roads to build the top and bottom lines
The telecom industry is going through one of the greatest changes in its history due to IoT and 5G. Blockchain can be seen as an enabling platform for innovative use cases like data access control, device identity or data exchange. Blockchain can help the telecom industry strengthen its ecosystem by fostering collaboration and creativity.
Contact us & Learn how KrypC can help your enterprise can help create greater efficiencies and explore new capabilities in your processes with Blockchain today!