"Blockchain technology isn't just a more efficient way to settle securities. It will fundamentally change market structures, and maybe even the architecture of the Internet itself."- Abigail Johnson.
The exponentially intensified expectations of users now make the supply chain far more rigorous. While there are a lot of emerging technologies available in the market, Blockchain has transformed the supply chain domain within the last few years.
Did you know, numerous industry managers have already accomplished vital business profits, including improved traceability, enhanced security, greater transparency, speed of transactions, reduced costs, and increased efficiency?
How Will Blockchain Make these Differences in Supply Chain?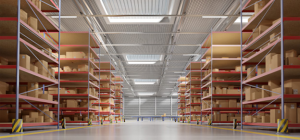 Here are a few distinctive features of Blockchain, making it profoundly relevant for your supply chain:
Transparent and Regulated Transactions: Blockchain has no mediator (For example, a bank) resulting in quicker and more transparent contracts since the record is updated automatically. It's possible to pre-program the payment requirements, including the transaction's visibility, so that only authorized participants can view it.
Pre-Sanctioned Transaction Fees: When doing cross-border transactions with Swift, the commission is deducted just after its completion – or upon running the wire through multiple third-party banks that have been performing this transaction. However, with Blockchain, you know the commission you will pay beforehand.
Auditability: Every transaction is instantly visible to all the validated parties, implying no one can conceal, delete, or tamper with any of the data available in the Blockchain.
Reliable: Since Blockchain technology has a distributed nature, it doesn't have one point of failure. Moreover, every transaction processed on it is irrevocable and immutable, eliminating the danger of deception.
3 Key Roles Blockchain Plays in Supply Chain Management
A survey by Statista, which is conducted in 2019 states, 40% of supply chain leaders declared they plan to spend and budget for blockchain technology.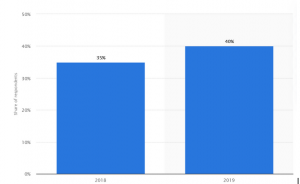 Enterprise-level Blockchain solutions can reconstruct the supply chain industry through the following use-cases:
Traceability: Traceability enhances operational effectiveness by mapping, as well as visualizing business supply chains. A mounting number of users want the source details of the products they purchase.  Blockchain aids enterprises to comprehend their supply chain, as well as engage users with verifiable, immutable, and real data.
Transparency: It develops trust by providing essential data points, including certifications and requirements, and then gives access to this data openly to end users. As soon as it is recorded on the Hyperledger blockchain, third parties can confirm its validity. The data can be updated, as well as authorized instantly.
Trade ability: It reforms the traditional marketplace idea. With the help of Blockchain, anyone can "tokenize" an asset by dividing an object into different parts that digitally showcase ownership. Just like the way a stock exchange lets trading of an organization's shares, this partial possession permits tokens to interpret the worth of a stockholder's stake of an assigned thing.  It's possible to trade these tokens, and users can even shift the control without physical asset switching hands.
Blockchain adds greater visibility, transparency and efficiency across the entire supply chain so goods can be traded with confidence. Sharing data is good for business — and sharing data on a blockchain platform is even better. You decide who can see your data. Create an immutable, distributed, and shared ledger to transact with your supply chain system in a more trusted and efficient way. In a world where speed, accuracy, and connectivity define optimal supply chains, blockchain is essential.
KrypC's KrypChain solution provides a blockchain platform that enables companies to build your own data-sharing ecosystem with your trusted supply chain systems to provide transparent data and insight into your products lifecycle.